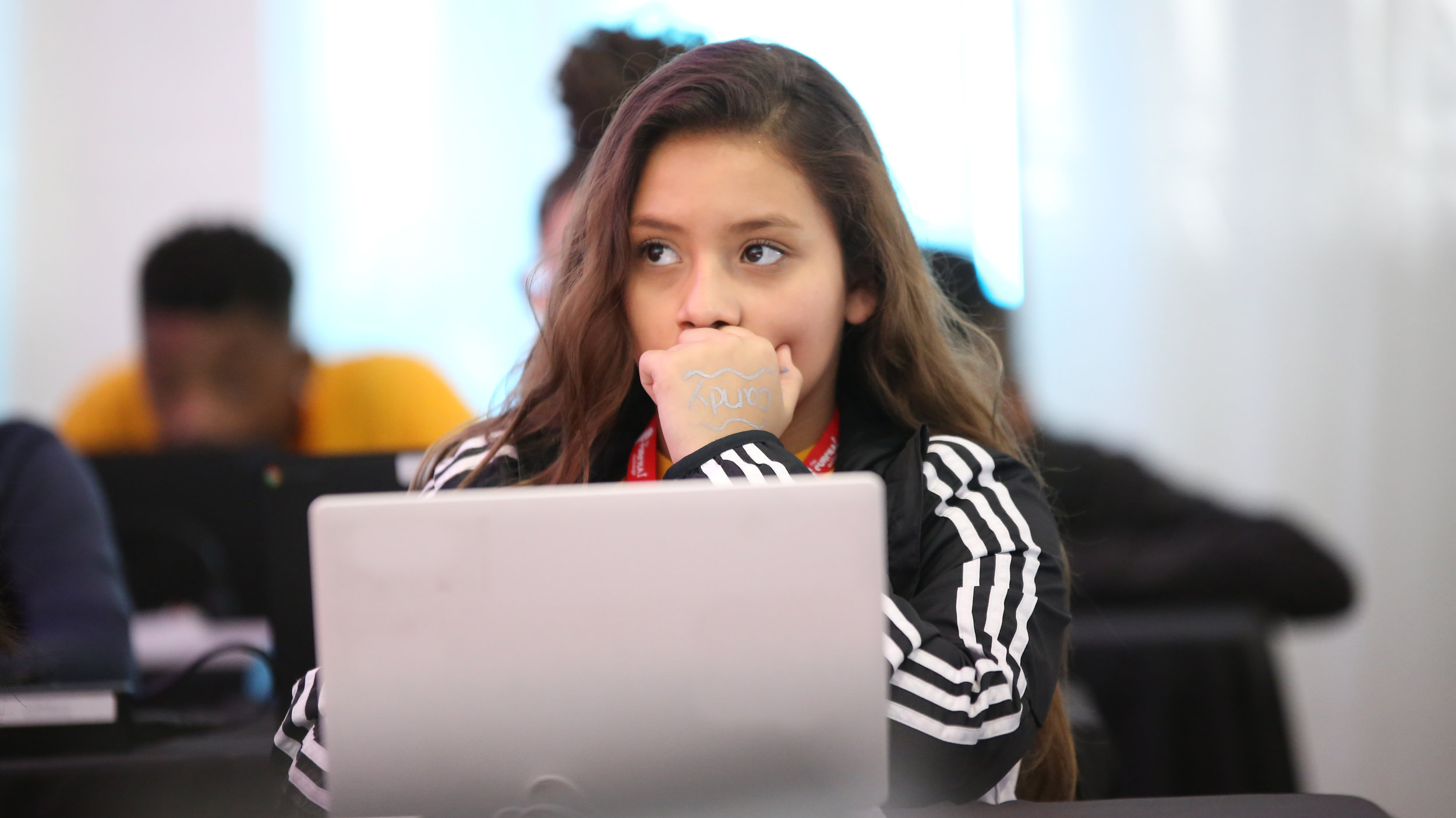 Codelicious delivers full-semester computer science and coding curriculum for educators teaching grades 3-8.
What you can expect in every Codelicious Course:
LED BY EDUCATORS
Every course in the Codelicious offering is designed to be led by an empowered educator, no matter their computer science experience.
4 PILLARS OF ENGAGEMENT
Along with coding projects, each full-semester course offers digital citizenship discussions (including STEM careers), unplugged activities, and hardware projects to engage different learning styles.
FULL-SEMESTER, PROJECT-BASED CURRICULUM
Our full-semester curriculum teaches problem-solving, communication, and critical thinking through project-based learning that can be customized for any school.
EDUCATION STANDARDS COMPLIANT
Educators encourage student engagement and collaboration using coursework that crosswalks with state and national computer science education standards.
Through Codelicious courses, your students will build their confidence and develop skills that are compliant with state and national education standards.
Programming 101:
Introduction to Computational Thinking with Scratch
Students understand foundational computer science principles such as loops, debugging, and conditional statements in this project-based course. Using Scratch, an open source block-coding language, students build games and solve puzzles to develop computational thinking and analytical skills. Educators introduce students to safe Internet behaviors, a variety of STEM careers, and real-world computer science vocabulary through participation in group discussion activities. After completion of this course, students will gain the basic skills needed to take higher level coding classes.
Programming 105:
Introduction to Web Development with JavaScript
In this introductory course, educators teach students to build and design websites using JavaScript, HTML, and CSS. Students gain familiarity with web-page structure and front-end web design best practices through a variety of project-based lessons. In addition, students are introduced to STEM careers in group discussions. Student choice activities allow educators to encourage individual interests and students to motivate one another, all while developing critical thinking and problem-solving skills. After this course, students will be prepared for Programming 205: Advanced Web Development with JavaScript.
Programming 111:
Introduction to Computational Thinking with Java
This project-based course is designed for students who have previous exposure to or clearly expressed interest in computer science. Students use Java, a line-coding language, to understand fundamental computer science principles like loops, functions, and conditional statements. Educators guide students through projects, including a computer science research presentation, that contribute to computational thinking and analytical skills. This course is positioned to help students prepare for AP Computer Science in high school.
Graphic Design 109:
Introduction to Graphic Design with Photoshop
Students build confidence in foundational graphic design principles using Photoshop. Students edit photos as well as design layouts for websites, magazines, and posters. Students manipulate both graphics and text to create consistent styling and branding. Open-ended projects and discussions encourage student creativity and exploration. A subscription to Adobe Creative Suite is required (not included). Upon completion of this course, students will be able to apply basic design fundamentals to various types of projects.
Graphic Design 108:
Introduction to Video Game Development
This course is designed to excite student interest in computer science by building playable video games. Using Godot, an open source platform, students order and code interactions between provided assets. Students partake in group discussions with a focus on real-world applications, ethical behavior, and careers within the gaming industry. Upon completion of this course, students will develop computational thinking and analytical skills through the lens of gaming that can be applied to other areas of computer science.
Programming 205:
Advanced Web Development with JavaScript
In this advanced course, educators build on the lessons and concepts from Programming 105: Introduction to Web Development with JavaScript. Students explore in-depth web development principles using JavaScript, HTML, and CSS primarily through the lens of design. Students develop problem-solving and analytical skills through front-end web development projects. Students understand user interfaces and database interactions in the context of website design. In addition, students gain exposure to a variety of STEM careers through participation in group discussions. Upon completion of this course, students will have gained knowledge on advanced web development and design frameworks.
Excite your students with a sample project!